"Rosie" Engine 734 (added August 2012)
1949 Ward La France Fire Engine "Rosie" -- Engine 734
This rig was purchased new from the Ward La France Truck Company, Elmira, New York in June 1949 by the newly formed city of Roseville, MN Fire Department as their very first pumper, and the City's second truck.  Their first rig was a Ward La France tank truck from two years prior.  Rosie was fully outfitted and completed by the Flour City Body Company in Minneapolis to the specifications of the Roseville FD in June 1949.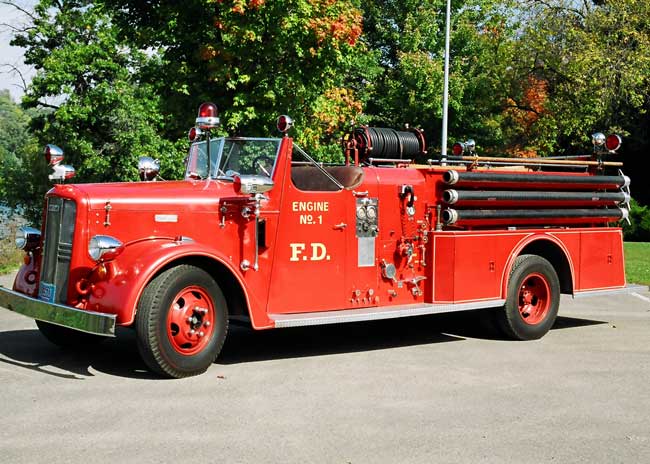 "Rosie" in the Park
Since the City was newly formed and didn't have a fire station built, Rosie was housed at the local hardware store garage until the Station was completed later that year.
Rosie saw first line service from 1949 to 1979.  She was then placed into second response service from 1979 to 1989.  From 1990 to 2003, she was placed on "parade" status and was used for parades, city functions, fire musters, and other public events.  In 2003 and 2004 she was used sparingly and was moved from location to location within the city garages/shops and finally ended up outside Number 2 Fire Station covered with a tarp, while her fate was being decided.
In 2004 it was decided to put her up for sale as surplus inventory.  Rosie was purchased and brought to Eau Claire, Wisconsin by a collector.
Rosie has a 517 cubic inch displacement, flathead 6 cylinder SRKR Waukesha Motor, bore 4-5/8", stroke 5-1/8", producing about 125 hp and coupled with a 4 speed transmission.  The motor has a dual ignition system operated by the battery or the magneto; hence the two spark plugs per cylinder.  About 22,000 of these motors were made from 1939 to 1958.  The motor is also equipped with a hand crank, but no one in their right mind would attempt this fate! 
Left Side of Waukesha 6SRKR Engine

Right Side of Waukesha 6SRKR Engine

Note 2 Spark Plugs per Cylinder
Rosie is outfitted with a Hale Pump, producing about 600 gallons per minute.  She also has a 200 gal. tank for reserve water on board.
She weighs in at about 15,000 pounds or about 7 ½ tons!  "Economical" is NOT her middle name, getting about 5 miles per gallon.  Her structural framework consists of steel and wood.
She is all original, as when she was serving the department.  Some additional hardware, work lights, and emergency equipment, has been located and will be replaced on her to reflect a true working engine once again.
Rosie was the featured Fire Engine for the Burnsville, MN Fire Muster in 1992 and appeared on all advertising: posters, T-shirts, buttons, and plaques for that year.  She went on to win the pumping competition the following year, 1993, by being the quickest to draft and then pump to her maximum rate and beyond!
Her pumps have yet to be tested since retirement, but soon will be and she'll become 100% active again!  For now, she will continue her public displays: car shows, parades, etc.
Jim Paulson 2012
Copyright © 2012 Waukesha Engine Historical Society, Inc. All rights reserved