The Diesel Speed Record Car (added October 2011)
It's a little-known fact that a Waukesha Diesel engine once held the World's Diesel Speed Record. This special speed record car was built by the students at the Hemphill Diesel School's shops in Chicago. The engine was a model 6D­140 Waukesha, also known as the Silver Comet Six. The 5" x 5-1/2" bore and stroke gave 648 cubic inches of displacement and 140 horsepower at 2100 RPM with a clean exhaust, according to Bulletin 914-E.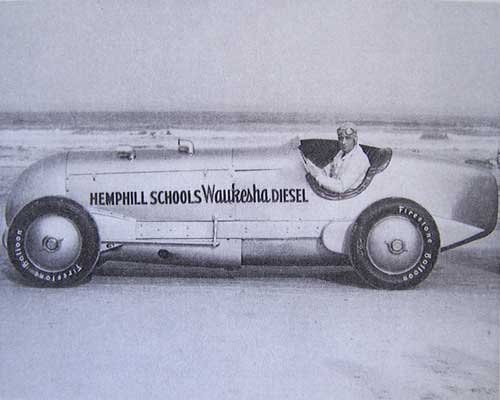 Presumably, for a short run on Daytona Beach, they probably opened up both the maximum fuel rate and speed settings for ultimate performance. In fact, the photo with the hood panel off shows no speed governor at all on the rear of the injection pump, while the Bulletin shows a Bosch governor. The engine RPM was still low by racing standards, though, as evidenced by the chain drive to the rear wheels, which used a larger sprocket in front to give an overdrive effect. The speed was 125.69 MPH.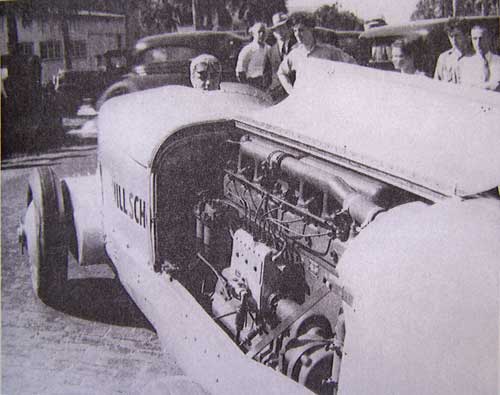 The official AAA record run was made on the Daytona sand the morning of February 15, 1935, with Dave Evans driving. Evans was a regular driver at Indianapolis from 1927 through 1934, and had driven the first Diesel ever at Indianapolis--the Cummins car--non­stop to 13th place in 1931.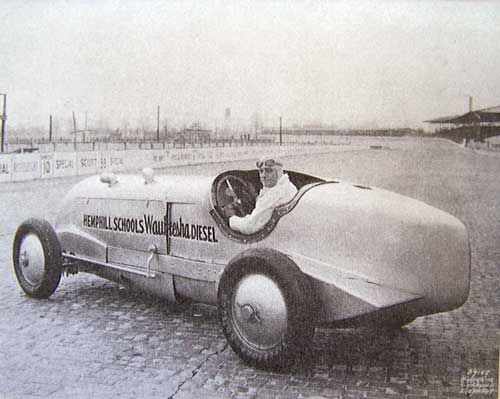 This record car was taken around and shown afterwards at our factory and at our New York branch office, and probably elsewhere to promote the engine. It's final destiny is unknown, but wouldn't it be great if it was found stored away in a dusty and forgotten corner of an old Chicago basement garage?
For additional photos and information, see: motor life.blog and Hemmings Blog.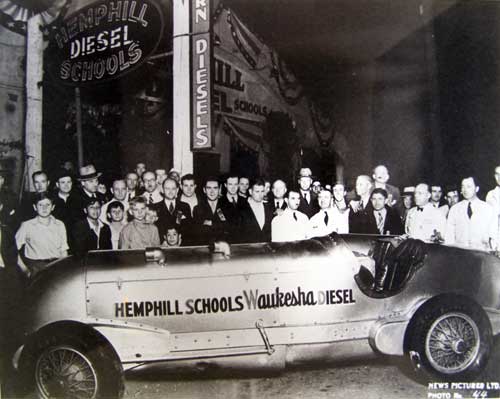 Ivan Baxter
Copyright © 2012 Waukesha Engine Historical Society, Inc. All rights reserved