Parts and Service Manuals (added July 2006)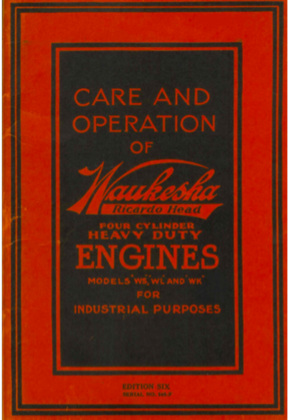 Old publications may still be available
We routinely receive requests from collectors for a parts or service manual for an old, out of production engine. It could be an old Oliver tractor, an early automobile or a military vehicle being restored and a service manual for the engine is desired.
Your first step in purchasing a manual is to contact your local authorized Waukesha Engine distributor in your area. Many manuals are still in print and available. They can order it for you.  To locate your nearest distributor, log onto Waukesha Engine's website, www.waukeshaengine.com to consult the world wide directory.
If you are advised by your Waukesha distributor that the manual for your engine is out-of-print and therefore unavailable, it might be possible that the Historical Society can help. You are welcome to e-mail the Historical Society by providing your name, engine model and serial number, which distributor you contacted and with whom you spoke or contacted, and tell us specifically what you are looking for.
You can find the model and serial number on the engine's metal data plate, mounted in various locations on the side of the engine, depending on the model. If the engine is missing this data tag, which unfortunately is often the case, then the serial number can still be found stamped on the crankcase. This number is not the "cast-in" crankcase part number, but a hand stamped serial number somewhere on a machined surface visible on the engine's exterior. Look carefully because often layers of paint can obscure this number.
The Historical Society may be able to help you obtain a manual.  However, be mindful that the Waukesha Engine Historical Society including this website is maintained by retired employees and volunteers who provide services on a limited basis.  Please be patient!  Also, we do not have access to or maintain an inventory of old out-of-production engine parts for sale.  Hunting for and finding parts is fortunately reserved for the joy of antique restoration!
Copyright © 2012 Waukesha Engine Historical Society, Inc. All rights reserved