Engine Driven Air Conditioning (added February 2013)
In 1936 Waukesha designed and developed a propane fueled air conditioning unit for use on railroad passenger cars. Prior to this, air conditioning in the railroad coach cars was provided by steam supplied by the locomotive or by power generated during the movement of the train. Consequently when the train stopped so did most of the air, or in some cases, all of it.
Waukesha's design was a propane fueled gas engine with a compressor that operated automatically and independently of locomotive power. Each coach had its own unit and fuel supply mounted under the car.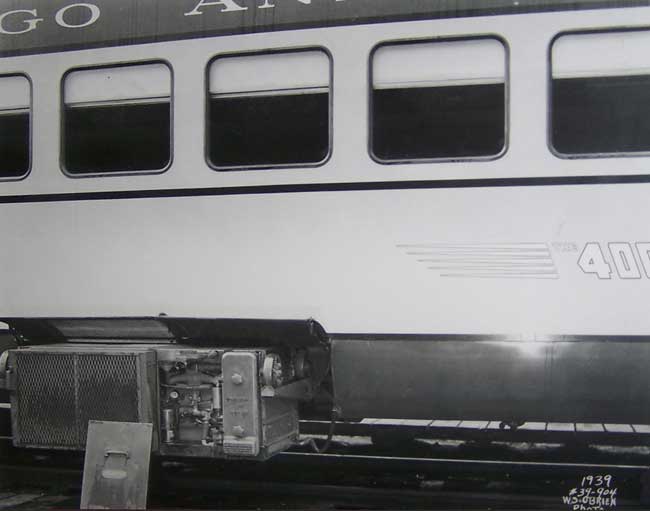 A Waukesha 'reefer' air conditioning unit slung underneath a
Chicago & Northwestern '400' passenger car in 1939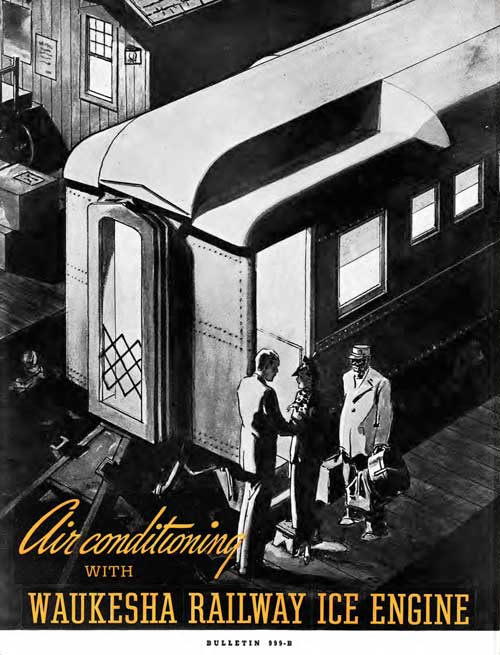 Bulletin 999-B Feb 1937
Click on image to open partial PDF of Bulletin (658 KB)
Later Diesel engine generator units for electric power were also developed. Within three years, fifteen major railroads were equipped with these units.
Cliff Borgstrom, Historian
Waukesha Engine Historical Society
Copyright © 2013 Waukesha Engine Historical Society, Inc. All rights reserved