Waukesha Motor Company and Fairmont Speeders (added January 2017)
Speeders
 
As mentioned in previous WEHS articles, Waukesha's were used in just about every application you can think of. One of the unusual applications was in those small rail cars that transported railroad section crews and their equipment up and down the several miles of tracks they were responsible for inspecting and maintaining.
These railroad crew cars were originally propelled by pumping up and down on a seesaw, teeter-totter, mechanism that transferred the motion via rods, cranks and gears to the wheels of the crew car. They were designed so that two or more crewmembers could do the pumping as required. These man-powered rails cars where technically known as "velocipedes", but were more commonly as "Pumpers" for obvious reasons. These rail crew cars were also known by a host of names, some conventional, such as; Section Car, Handcar, Track Car, Gang Car, Crew Car, Inspection Car, Maintenance Car, Motorcar, Pump Car, Railcar, Railway Motor Car, Section Car, Track Car, etc. and then other, more colorful, names such as:
Draisine --- named for German Baron Kari Christian Ludwig Drais von Sauerbronn who is credited for inventing the first human powered vehicle
Gandy Dancer Car --- railroad maintenance crews were know as Gandy Dancers, a term derived from maintenance crews heaving against long steel poles, known as "Gandy Poles", to pry misaligned tracks back into position. This had to be done in unison, often to the rhythm of a chant, and it appeared as if the crews were dancing. One legend has it that the steel poles where manufactured by a Gandy Mfg. Co in Chicago, IL --- and thus the term "Gandy Pole". But there other theories as to the where the term originated, but nobody seems to know for sure!
Jigger --- the term for mechanical devices that have a jerky or jolting motion, like a railroad crew car
Kalamazoo --- named for the Kalamazoo Railway Supply Co., Kalamazoo, MI one of many manufacture of railroad crew cars
Putt-Putt --- the sound of the single engine that powered many of the smaller lighter crew cars. Some say it sounded more like putt-putt, putty-putty, putt-putt?
Pop Car --- so called because of the "putt-putt" of the single cylinder motors.
Quad --- 4-wheel version of the Trike
Trike --- 3-wheel crew car
Speeders --- (described later in this article)
Trolley --- a small car operated on a track
These railroad crew cars were manufactured by many companies including; Beaver, Buda, Casey Jones, Commonwealth, Fairbanks-Morse, Gemco, Gibson, Kalamazoo, Northwestern Motor (Eau Claire, WI), Pacific Ace, Portec, Railway Works Shops, Sheffield, Sylvester, Tamper, Wickman, Woodings and the Fairmont Railway Motors, Inc. of Fairmont, MN, the subject of this article.  Fairmont, considered the most successful, was founded in 1909, acquired by Harsco Corp. in 1979 and the last of the Fairmont railroad crew cars was manufactured in 1991.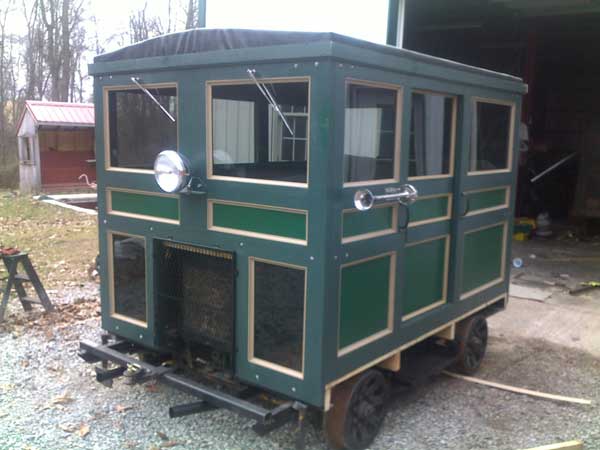 Unusual Speeder with FC courtesy of Bob K Feb 2012
When internal combustion engines came along, Fairmont began using them to propel their railway crew cars. At first they used the single cylinder, putt-putt, engines. The motor-powered crew cars were much faster (40 MPH max) than the "Pumpers" (15 MPH max) --- and thus they were termed "Speeders". The "Speeders" were a God-send to railroad crews who were often exhausted after pumping the "pumpers" to the section of track they were to work on that day.
Beginning in 1930's Fairmont began using several of Waukesha's 4-cylinder engines in their larger heavy duty "Speeders". (A trackman in Montana told of the winter of 1953/54 when they had to borrow a heavy duty Waukesha powered Speeder because the Speeder they had couldn't haul the equipment in the hilly and windy area!)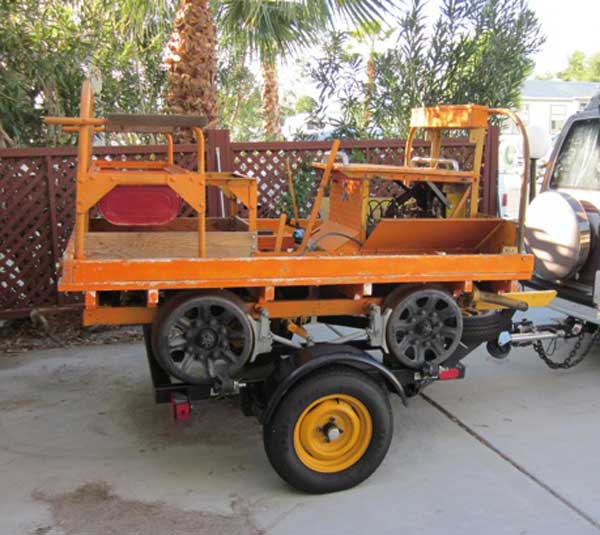 Fairmont A3 Speeder with ICK courtesy of Ken C November 2010
By the 1980's, cars and trucks were being fitted with attachments with flanged rail wheels that could be lowered down onto the tracks so that the vehicle could run on both the highway and on rails and were thus known as "Hy-Rail", or "Hi-Rail". In the early 1990's, Fairmont and other manufacturers discontinued building "Speeders" and, like the "Pumpers" before them, have become part of railroad's colorful history.
"Speeder" clubs, governed by the North American Railcar Operators Association (NORCOA), established in 1980, encourages the restoration and the safe operation of these railway "Speeders". The Association schedules railroad company approved "Speeder" excursion trips on remote and seldom used rail lines in scenic areas around the country.   

Some of the Fairmont "Speeders" that used Waukesha's: (Ref. Glenn Butcher's Railroading/Motorcar Types and Wayne Parson's Guide to Fairmont Cars.)
| | | | |
| --- | --- | --- | --- |
| Fairmont Model | Length | Crew Capacity | Waukesha Engine Model |
| A3 (1931) | 8.5 ft. | 8 | ICK (Parson) |
| A3-D (1956) | 8.5 ft. | 8 | ICK   |
| A3-E (1962-74) | 8.5 ft. | 8 | ICK |
| A5 (?) | 8.5 ft. | 8-9 | FC (Parson) |
| A5-A (1935) | 9.0 ft. | 8-9 | FK |
| A5-B (1935) | 9.0 ft. | 8-9 | FK |
| A5-C (?) | 9.0 ft. | 8-9 | FC |
| A5-E (1966-74) | 9.0 ft. | 8-9 | FC |
| A5-ZU (1935-45) | 9.0 ft. | 8-9 | FC |
| A7 (?) | 10.75 ft. | 12 | XAH (Parson) |
| A7-A (1948-53) | 10.75 ft. | 12 | XAH |
Waukesha Engine data:
| | | | | |
| --- | --- | --- | --- | --- |
| Model | Cyl. | Bore x Stroke | CID | Max HP @ RPM |
| ICK (1938-73) | 4 | 2.500 x 3.125 | 61.4 | 17 @ 2400 |
| FK (1932-37) | 4 | 3.250 x 4.000 | 132.7 | 32 @ 2400 |
| FC (1935-73) | 4 | 3.250 x 4.000 | 132.7 | 35 @ 2400 |
| XAH (1930-64) | 4 | 3.625 x 4.500 | 185.8 | 45 @ 2400 |

North American Railcar Operators Association
http://narcoa.org
Martin County Historical Society (has Fairmont speeders records)
304 East Blue Earth St.
Fairmont, MN 56031
http://fairmont.org/mchs/

Rocky Schaefer, Historian
WEHS

Copyright © 2017 Waukesha Engine Historical Society, Inc. All rights reserved