The Motor Works - Part 1 (added June 2014)
Powering Waukesha and the World
| | |
| --- | --- |
| | JOHN SCHOENKNECHT |
One of the oldest businesses in Waukesha is located on St. Paul Avenue between Prairie Avenue and Moreland Boulevard. Driving past the sprawling complex, few people know the history of the company, few people know the huge impact the company has had on Waukesha, few know the myriad uses of Waukesha engines, and few know how an engine is actually made.

Waukesha Engine, now part of GE Power and Water, is vitally important to Waukesha.

In 1959, the Waukesha Freeman estimated that "between 4,500 and 5,000 people, or about one-fifth of the city of Waukesha's population, depend directly on the production by Waukesha engines, power units and other products for their livelihood. Of the 1,800-person payroll, about 1,200 are production workers. The total also includes between 75 and 100 researchers and between 500 and 600 non-production employees, including office and sales staffs."

The story of the founding of the company revolves around several Waukesha men: Harry L. Horning, Fred Ahrens, James H. Remington, Allen Stebbins and Samper (Sam) Perkins.
Harry L. Horning
Harry Levan Horning came from a long line of Dutch industrialists. His fraternal grandparents were John and Harriet Horning, residents of Norristown, Pa. John came to Waukesha County in 1857, but then moved to Milwaukee, where he worked as a mechanic at the E.P. Allis Co. His son Henry was 5 when the family came to Waukesha County. Henry went to Milwaukee schools and worked at various jobs in the city.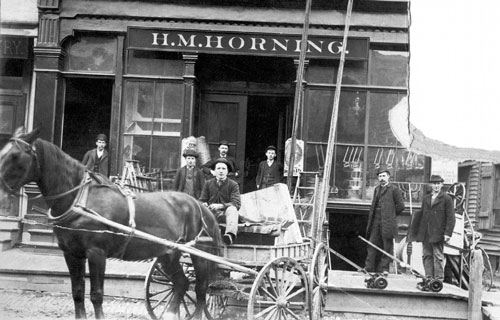 Photo from the John Schoenknecht collection at the Waukesha County Museum
Henry M. Horning's hardware store on Clinton Street. Horning decided to open it in 1880, the same year Waukesha Motor Co. founder Harry Horning was born.

In 1876, he married Martha Brown of Summit township. In 1880, he decided to go into business for himself. Henry purchased the hardware stock of R.C. Beggs & Co. and built up his own hardware store on Clinton Street.
Henry and Martha worked their way into Waukesha society. They were frequently mentioned in the Waukesha newspapers alongside other prominent families such as the Frames and Blairs. Henry was a member of numerous Masonic organizations in Waukesha and Milwaukee.

Harry Levan Horning was born on March 23, 1880, in Wauwatosa. His sister Millie was born in June of 1881.

Photo from the John Schoenknecht collection at the Waukesha County Museum
Harry Horning at about age 3. A Freeman story later said that Horning, while a student at Carroll College, showed great interest in modern science.
Photo from the John Schoenknecht collection at the Waukesha County Museum
The original Waukesha Motor Co. building (The Blue Front Garage) on North Street. The building was originally used as a warehouse and store for the woolen mill. Rocky Schaefer recalled that there was a hand-operated elevator in the back of the building.
The first mention I found of Harry in the newspapers was in 1890, when he traveled to Boston with his parents to visit friends. A few more:
On Jan. 28, 1892, he was seriously ill with pneumonia.
In July 1897, he served as a referee at a basketball game at Bethesda Park.
In February 1898, Harry served as accompanist to the Carroll College Glee Club at a concert.
The June 6, 1899, Freeman mentioned that at Carroll College, "The science oration by Harry Levan Horning was listened to with much interest by all present. It included a review of the inventions of recent years and the achievements of modern science. Mr. Horning is evidently greatly interested in such matters, and is a keen student with excellent powers of expression."
Harry Horning was in Milwaukee acting as assistant superintendent of the Milwaukee Gas Co. in November 1899. This was found in the Carroll College Notes section of the paper.
The Dec. 12, 1902, Freeman stated that "Harry Horning of Chicago spent Sunday with his mother and sister on College Ave." What job he held in Chicago is unknown.
Harry won two prizes at the 1903 YMCA Art exhibit in August of 1903: first place for a charcoal drawing and special mention for a pencil drawing. Harry was also teaching a class in mechanical drawing at the YMCA on Tuesday and Friday evenings.
By this time, Harry was head of the mechanical engineering department of the Modern Steel Structural Co. in Waukesha. He worked on the Duluth-Superior aerial lift bridge. It was at this firm that he met Frederick Ahrens.

In July 1904, the Modern Steel Structural Co. sponsored a concert at the Casino Theater. Horning and Ahrens were listed among the sponsors of the concert.

On an interesting side note, Harry's mother took over management of the Park Hotel in the early 1900s.
Frederick Ahrens
Harry's friend Frederick Ahrens was born in Germany about 1872. He came to the United States in 1883. He married a woman named Elizabeth about 1902. The family lived on Arcadian Avenue and later on Randall Street and consisted of three sons: Irving, born 1894; Jacob, born 1897; and Robert, born in 1902.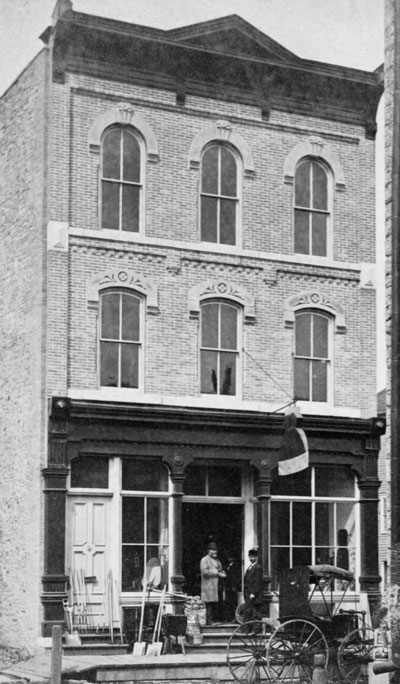 Photo from the Waukesha County Museum
Photo from the John Schoenknecht collection at the Waukesha County Museum

Fred Ahrens.Ahrens and Harry Horning bought a North Street building and worked on motors there in their off hours.
The Blue Front Garage
Horning and Ahrens had a mutual interest in motors. In 1906, they acquired a Lannon stone building on North Street that at one time was the office building of the Waukesha Woolen Mills. It later served as a bicycle repair shop. Horning and Ahrens spent their off hours working on motors there. Their first employee was James H. Remington, a 16-year old kid who shared their interest in motors.
James H. Remington
James H. Remington was hired to wash cars and do other odd jobs at the Blue Front Garage. But he loved working on motors and stayed with the company for a long time.

Remington was born in May 1890 in Minnesota to Albah and Anna Remington.

The family was not listed in the 1892, 1895 or 1899 Waukesha directories.

The 1900 census showed that the Remington family was living in the Remington Flats near Oakland and Lincoln. The family consisted of the father Albah Remington, mother Anna Remington, James H., John D. and uncle Daniel Remington. The father's occupation was listed as a merchant of general merchandise.

In the 1907-08 city directory, Remington was listed as a "Draftsman 121 North St." He lived at 300 Lake St.

In the 1917 city directory, he lived at 314 E. Broadway, and his occupation was "purchasing agent for Waukesha Motor Co."

In the 1920 census, Remington was living at 312 E. Broadway with his parents (he was 19 at the time). He was a draftsman at the Motor Works.

The story of the birth of the Blue Front was told in an early 1930s Freeman newspaper article.

"Some time previously the owner of the steel firm (Conrad Haertl) had purchased a gasoline engine for his lake boat. Like many engines of that day ... , this engine sometimes ran and sometimes didn't. Its performance, one writer has said, 'was as erratic as a patented cigar-lighter.' The two young mechanics were given the job of making that engine run when its owner wanted it to run – and to keep running."

"The two were equal to the job. But in tinkering with this early engine they came to the conclusion that a better engine could be designed. They decided to do the designing."

"There was much to be learned. The gasoline engine was still inscrutably mysterious in its temperament. This temperament had to be whipped before the gasoline engine could become a dependable servant."

The sign outside their new business read "The Blue Front Garage – Cars Washed, Stored, and Repaired – Morgan & Wright and Hartford Tires."
The 1930s article continued:
"Adventurous automobilists who stopped in Waukesha in those days had little idea that, with their automobiles (most of them were foreign makes), they were unwittingly supplying the guinea pigs used by these young engineers to improve their knowledge of the gasoline motor. ...

"When a traveler stopped at the Blue Front Garage he never suspected that, by dint of long hours of night work, his engine would be carefully dissected, analyzed, diagnosed, studied, and then before daylight put together again, tuned up. and so skillfully adjusted that the owner marveled at the miracle of a wash and a polish at this little country garage. The Blue Front soon won renown that spread far beyond the limits of its small stone building on North Street."
Birth of Waukesha Motor
As Horning and Ahrens tinkered with the motors at the Blue Front Garage, they decided that they could build a better motor themselves.

With the financial help of a retired farmer named Allen Stebbins, they incorporated the Waukesha Motor Company on May 29, 1906. Stebbins was a major investor, so he was named president, Ahrens vice president, and Horning secretary-treasurer. According to the book "Facing Forward: The History of Waukesha Engine 1906 - 2006," other investors were Samper Perkins, Mary Wilkins Mucklestone and her sister Frances Wilkins.
Allen T. Stebbins
It was difficult to find information about Stebbins. He was born in Indiana in April 1856.
In the 1892 Waukesha city directory, Stebbins was listed as a bookkeeper, living at 309 Beechwood Ave. He was not listed in the 1895 or 1899 directories.

In the 1900 census, Allen T. Stebbins was listed as a farmer in Eagle township. He was married to wife Katherine C. (born in July of 1859). They had four sons: Allen (born in August 1883), Frank (born in August 1885), Gerald (born in September 1890) and Robert (born in July 1892). His mother, Elizabeth, also lived with him.

In 1907-08 Stebbins was listed back at the same Beechwood Avenue address, and his occupation was "President of the Waukesha Motor Co."

But by 1910, the family was living in Hennepin County, Minnesota, with the addition of a daughter, Beth, who was born in 1902. Stebbins listed his occupation as a manufacturer of tractor engines, and three of his sons were mechanics.
(John Schoenknecht, a retired Waukesha art teacher and a local historian, is the author of "The Great Waukesha Springs Era: 1868–1918" and "From Prairieville to Waukesha." He can be reached at thbolt@wi.rr.com)
This article was originally published in the Tuesday, January 21, 2014 issue of The Freeman Waukesha County's newspaper.
Copyright © 2014 Waukesha Engine Historical Society, Inc. All rights reserved