The Motor Works - Part 9 (added October 2014)
Waukesha engines find use in Arctic, spot in 9/11 history
| | |
| --- | --- |
| | JOHN SCHOENKNECHT |
Employees organize Waukesha Engine Historical Society
The 1990s
In 1990 production began on improved Model L1616 engines that were used to equip minesweepers for the Royal Saudi Naval Forces.
That same year, the Unocal Gas Storage Facility in British Columbia became the northernmost site to use Waukesha engines. Seven Model 12V-ATGL motors were able to perform in extreme cold, heat and dampness.
In 1991, President Trombley instituted a Total Quality management program. In 1993 he instituted an Academy Award for Quality.
A new slogan appeared in 1992: "Waukesha Natural Gas Engines are Turning the World Around." The ad appeared in print media and on semitrailers in the United States.
In 1992, the Waukesha Engine Historical Society was organized. This organization has accomplished much since that year. Ron Long was the first president. Other longtime members are Clifford Borgstrom (who was appointed as the official Historian, a position he still holds today), Rocky Schaefer and Dennis Tollefson.
The group had a good start when it purchased the collection of William Fuchs. Fuchs was a longtime employee of the company who had a significant amount of material, and a good friend of mine. The group also received a lot of Warren O'Brien photos. An appeal to the public for photos and memorabilia also resulted in acquisitions. All the material was cataloged and organized by the historical society in the WEHS museum.
The following year, a new magazine, Quality Digest, was published by the company. The byline was: "Dedicated to the Total Quality Improvement Process."
President Peter C. Trombley died unexpectedly in 1994. He was 54 years old. Michael Goc wrote:
"As Chet Lee's executive vice-president and as president himself, Trombley had played a leading role in the reshaping of Waukesha Engine that began with the plant renovation in 1977... ."
Photos from the Waukesha Engine Historical Society
President Peter C. Trombley served from 1987 until his unexpected death at age 54 in 1994.
G. Phillip Tevis succeeded Peter Trombley as president, but five years later became vice president of operations at Dresser Industries.
William O'Connor was named president in 1996.
President Thomas J. Laird assumed his post with the company in 2004.
President Barry Glickman led the company in 2008 and 2009.
President Bruce Coventry held the post from 2009 to 2010.
G. Phillip Tevis was named president of Waukesha Engine after Trombley's death. Tevis was 51 years old. He was promoted to the position after serving as senior vice president for technology and venture operations for Dresser's M.W. Kellog Co. Tevis served in the post for two years.
In 1995, the Appingedam plant in the Netherlands became Waukesha's first plant to achieve ISO 9001 certification. The International Standards Organization assured consumers that the products and services were safe, reliable and of good quality. The St. Paul Avenue plant received the same certification in 1996.
A big step was taken in 1995, when Waukesha discontinued its diesel engine line. The company decided to focus exclusively on gasfueled engines.
In 1996, Tevis was named Dresser's vice president of operations. William O'Connor was then named president of Waukesha Engine.
It was in 1996 that Waukesha Engine entered the cyber world as the first Waukesha Engine website debuted online.
In January 1997, a new contract was signed between IAMAW Local 1377 and the company. It gave the workers a 401(k) plan and an improved work package.
A Freeman article by Brad Jennings from April 22, 1997, told the stories of Erv Kukkan and Norman "Blackie" Hagenau, who retired after working for the company since June 12, 1951 – 46 years. Both men saw tremendous changes at the plant, including the automation that eased a lot of the hard labor. Hagenau recalled seeing a young Sen. John F. Kennedy from Massachusetts campaigning outside the facility in 1960.
"I can still see him yet," Hagenau said. "I came across the street and Kennedy was standing there and I shook his hand and went in."
The men held the record as longest employees for one day. The next day, Pete Simone retired after 47 years.
In 1997, Dresser Industries recorded $7.4 billion in sales. The company was helped by a record-shattering performance from Waukesha Engine.
In 1998, Dresser Industries merged with Halliburton, a huge defense contracting company, to form a new Halliburton Company. For a brief period, Waukesha Engine was included as part of the Dresser Equipment Group.
In 1999, the upgrade of Waukesha Engine's facilities was completed. The final total cost was $30 million. New computerized machine tools accounted for $19 million of that.
| | |
| --- | --- |
| | |
| Photo from "Facing Forward," by Michael Goc. | Photo from the Waukesha Engine Historical Society |
| Engines on the line in the 2000s. | President Brian White. |
The 2000s
During the decade, Waukesha Engine found new ways to remain competitive. It also celebrated a significant anniversary and found new owners.
In 2000, Waukesha Engine introduced the Model L5794LT, its first open-chamber, lean-burn, VHP engine.
New innovations resulted in the 2001 introduction of the Engine System Manager. The new technology optimized engine performance.
Waukesha Engine's short time as a division of Halliburton ended in 2001, when the First Reserve Corp. and Odyssey Investments Partners, LLC acquired the Dresser Equipment Group. It organized a new Dresser Inc.
On Sept. 11, 2001, America came under attack when terrorists attacked the World Trade Center. Six Model L5792DS Waukesha engines were the emergency backup power source. The engines were located deep below the surface. They were supplied with cooling water directly from the Hudson River and were vented to the surface. When the planes hit the towers, power remained on despite the heavy damage. When Tower One collapsed, the units were buried in rubble and stopped functioning. Three of the units were damaged beyond repair. Two of the units were salvaged and rebuilt. A third engine was shipped back to Waukesha in 2002 and is now part of the display in the company's showroom. I had a chance to see the massive engine, and to me it was inspiring to see.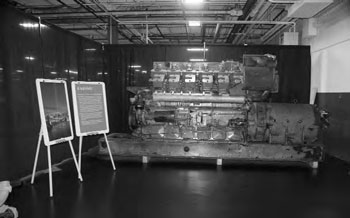 Photo from John Schoenknecht
"The Survivor," one of the surviving Model L5792DSI Enginators from the World Trade Center. This one is on display in the company's showroom.
Following the attacks, an economic downturn, combined with a decline in natural gas prices and other economic conditions, caused Waukesha's profits to slip from $277 million in 2001 to $217 million in 2002. This contributed to a layoff of 130 workers.
"Waukesha's financial performance was tied to the price of natural gas," wrote Michael Goc.
The year 2003 was a tumultuous year, marked by a prolonged labor-management contract dispute. Issues such as wages, a twotiered wage plan, and health insurance contributions were at issue. A strike began in May. Unlike the strike of 1939, the plant did not shut down. It was settled after 85 days and compromise on both sides. Toward the end of the year, several managers of the company were fired.
But in 2003 Waukesha also started to recover from the financial conditions of a few years previous. Demand for backup power units increased. Financial conditions around the world improved. Waukesha opened a training center in Porto Alegre, Brazil. This reflected the growing South American development.
In January 2004, William O'Connor retired after 34 years with Dresser. Thomas J. Laird took over as president of Waukesha Engine. In a Freeman article by Kirsten Korosec, dated Jan. 15, 2004, the president of Dresser, Steve Lamb, said the appointment of Laird "is the next step in improving financial and operational performance of the company."
Laird had been president and CEO of Ace Products Inc., a manufacturer of tires and rubber products for the lawn and garden, agricultural and industrial markets. He also had been president and CEO of Advance Mixer Inc. and Woods Equipment Co.
According to the Freeman story, it was expected that "Laird would help Waukesha Engine decrease the cost of its products including looking at engineering, suppliers and machining costs."
In 2006, the APG 1000 (Advanced Power Generation) Enginator with ESM was released for sale. This is a high-efficiency, lowemissions engine, developed with a grant from the Department of Energy as part of the Advanced Reciprocating Engine Systems program.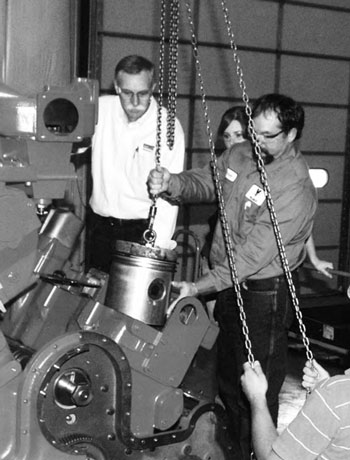 Photo from "Facing Forward" by Michael Goc
Product Training Manager Charles Lawton, in the white shirt, conducted a hands-on training session in 2006.The 16,000-square-foot training center houses adaptable classrooms, a shop area, tools, engines and generators for hands-on training.
Also that year, Waukesha purchased technology rights to the Wartsila W200D and W220SGD engines in order to develop more powerful engines under the Advanced Power Generation program. The Wartsila engines were designed to run generators. Waukesha Engine modified the Wartsila W220 into a Waukesha model 18V220GL – the most powerful Waukesha engine to date. It weighs an astounding 41 tons! Once again, Waukesha Dresser invested $3 million to improve facilities and $7 million for new computercontrolled machine tools.
Again, Waukesha continued to grow worldwide as it served the expanding Asian market. A training center was opened in Phitsamulok, Thailand, in 2006.
That same year, Waukesha Engine celebrated its centennial. Michael Goc's book "Facing Forward" was commissioned as part of the celebration. Waukesha engine celebrated its 100th birthday in 2006. On Friday, Aug. 11, employees, their families, retirees and guests spent a day of fun at the Wisconsin State Fair. On Sunday, August 13, Waukesha Engine sponsored an open house to which the community was invited. Employees showed their workplaces and shared their experiences of manufacturing Waukesha engines.
A series of presidents served in the late 2000s and early 2010s. Barry Glickman took the helm from 2008-2009. He was followed by Bruce Coventry in 2009-2010, and Brian White in 2010.
In 2010, the 12V275GL+ and 16V275GL+ engines were introduced. They were designed for ease of packaging, high efficiency with low emissions and were capable of operation on a wide range of gaseous fuels at high altitude.
In 2011, General Electric purchased Dresser Inc. This was exciting news for the company and for Waukesha. GE has been one of Waukesha's premiere industries. Waukesha Engine became GE Energy Waukesha Gas Engines.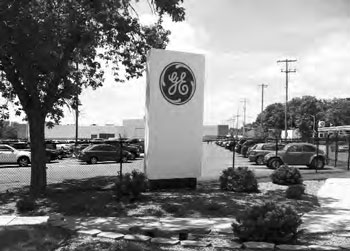 Photo from GE
The new GE sign at the corner of Prairie and St. Paul avenues proudly proclaims the company's new owner.
Today
I had a chance to speak to John Blomberg of GE Gas and Water in Waukesha. I asked him to explain the corporate structure of GE and how Waukesha fits into the company.
John started by reminding me of the thousands of products that GE manufactures. The huge company has eight divisions. One of these divisions is GE Healthcare, which operates in Waukesha. Another division is called GE Power and Water. The GE Waukesha Gas Engine facility is part of that division. Brian White is the executive in charge of the Waukesha facility.
Waukesha Engine Historical Society member Dennis Tollefson commented on the current engines produced by the company. He noted that today's engines are much larger than those previously made. The current engines are up to 3600 horsepower and weigh 5,700 pounds to 66,000 pounds compared to the 15 horsepower to 1,200 horsepower and 195-pound to 15,000-pound engines of 40 years ago.
The applications have also changed. Compared to the many uses mentioned in this column, there are two primary applications today: power generation and gas compression.
Dennis explained: "Both of these applications require the engines to run continuously. Continuously means running at full load for more than 8,000 hours a year (there are 8,766 hours in a year). The off hours are needed to change oil and spark plugs plus other routine maintenance. In common terms this is equal to running your car at 65 MPH which means you would drive ~500,000 miles per year. These engines are designed to operate like this for a life span of 20+ years."
The famous GE logo is now seen on signs outside the longtime Waukesha facility. It is a breath of fresh air for a company with deep roots in Waukesha.
(John Schoenknecht can be reached at thbolt@wi.rr.com.)
This article was originally published in the Friday, February 21, 2014 issue of The Freeman Waukesha County's newspaper.
Copyright © 2014 Waukesha Engine Historical Society, Inc. All rights reserved