Training Center (added February 2012)
Waukesha Engine
Product Training Center
Product training at Waukesha Engine dates back to the company's president De Long, in post WWII.  There was a classroom in the plant located on the east end of the purchasing offices that doubled as a meeting room.  Classes were scheduled on demand and conducted by members of the sales and service staff.  In later years, under the company president Charlie Nelson's leadership, a training center was established in a rented facility across from the Waukesha County airport.  Again, classes were scheduled on a "need-be" basis, and were conducted by Hank Mehciz, Alan Webster, and Frank Banting.  Hank was the West Coast Service Manager who was brought back to Wisconsin after the California branch office was sold.  Alan Webster worked primarily for Power Systems as their Power Generator Field Service Engineer.  Frank Banting was the company pilot who was primarily responsible for piloting the corporate plane that was kept at the Waukesha County airport hanger. 

In later years, the training center was moved to a closer, more suitable location on West Avenue, approximately ½ mile from the factory where classes were scheduled on a regular basis to meet the needs of the growing and expanding oil & gas, and power gen business.  In 1980 Chuck Lawton joined the training staff of Mehciz and Webster.  When Hank retired shortly thereafter, Chuck ran the Product Training Center and expanded the school with additional full time training instructors of Rick DeYoung and John Mueller, who also conducted a substantial number of field schools as well. 

Both John and Rick were Wisconsin Certified professional trained teachers who also had technical backgrounds.  This formula of success led Chuck to hire Blaine Punzel, Russ Rach and Pete Robins, all who possessed similar educational and technical backgrounds.  As classes became very large and scheduled regularly, the operation outgrew the rented facility.  Waukesha Dresser made the decision to build a brand new 11,000 square foot building in 1986, dedicated specifically to product training, complete with running and other engines that could be disassembled for overhaul training.  The building was erected at its' present location on company property at the corner of Prairie and St. Paul Avenue.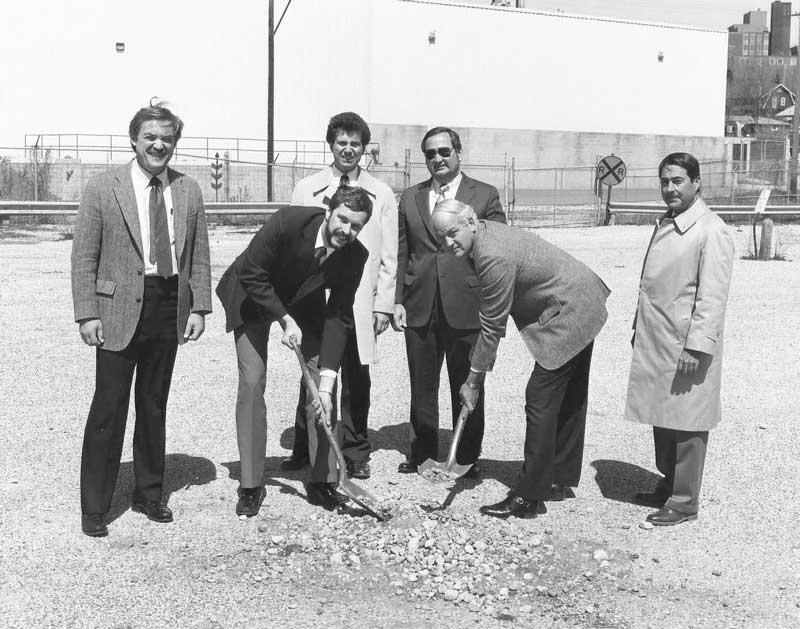 Ground Breaking for New Training Center at Waukesha Engine Dresser
Left to right: Dick Davis, Director - Service Operations; Chuck Lawton; Architect from Mason; Ben Stuart, President; Pete Trombley, Vice President - Sales; Mr. Mason of Mason Builders
As international business became more and more important to Waukesha's expanding markets, additional training centers were opened and operated in Brazil, France, The Netherlands and Thailand.  A Spanish-English speaking instructor, Hector Trevino was hired to conduct schools in South America and other locations in the field.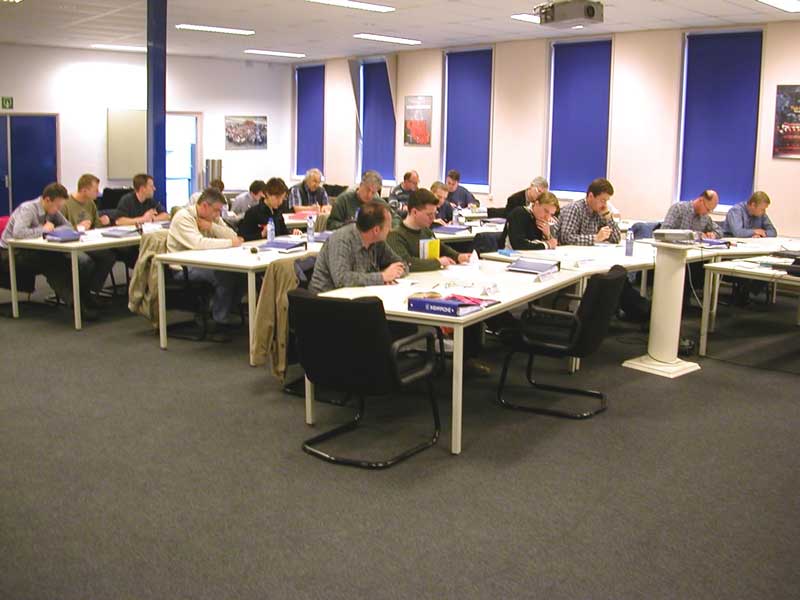 Class Room: Appingedam, The Netherlands
Also in the mid 1980's, engines were becoming more sophisticated with electronic ignition systems, air-fuel ratio controllers, catalytic converter equipped and lean burn low emission engines.   Field technicians were beginning to bring computers to the job site to connect to on-board electronics that were controlling engine operations.  As a result, schools were challenged to keep up with this changing technology by expanding into different courses and began testing for certification of field technicians.  Certification became important to Waukesha distributors and their technicians who earned it. Technicians enjoyed the status of earning a Gold Master certification when they met program requirements and received a set of gold engraved Snap-on wrenches for their achievement.  The Waukesha distributor earned a higher warranty labor rate when a certified technician completed the repair.  The customer had the satisfaction that a factory trained technician worked on their product.
The reputation around the oil & gas industries was that Waukesha had the best technical gas engine training in the business.
Chuck Lawton
March 2009
Copyright © 2012 Waukesha Engine Historical Society, Inc. All rights reserved