Trucks that have used Waukesha Engines (added February 2016)
Waukesha was one of the pioneers of motorized trucks, having supplied engines to truck manufacturers from 1907 into the 1970's, when diesels took over the market. In 1912 Waukesha introduced the first of its long stroke/high torque truck and tractor engines.
From 1902 to 1956 there had been over 800 truck manufacturers, most of which used engines from independent engine manufacturers like Waukesha, and included:
Beaver

Buda

Climax*

Continental

Cummins

Detroit Diesel

Gray

Hall-Scott

Hazard

Hercules

Herschell-Spillman

Hinkley

LeRoi*

Lycoming

Midwest

Rutenber

Weidley

Wisconsin

others
* The Climax Engine Co. and LeRoi line were obtained by Waukesha in the late 1950's
In the early years, Continental followed by Buda, were, by far, the dominant independent suppliers of truck engines, with Wisconsin and Waukesha essentially third and fourth. Diesels took over the market  in the 1970's.
Waukesha's were used in all types and sizes of trucks from small delivery trucks, to heavy-duty on and off highway trucks, earthmovers and military trucks in both WWI and WWII. Waukesha was also supplying engines for marine vessels, automobiles, farm tractors, industrial uses and the soon to emerge oil field market.
In 1908, Chicago received its first motorized fire truck manufactured by Harder Auto Truck Co. fire truck, that used the Waukesha Model A engine.
In 1927-28, a stock  International Harvester (IH) ¾ ton delivery truck, powered by a Waukesha Model XA engine, made history by being the first stock commercial truck to be driven across equatorial Africa from east to west. The truck was then sold to an explorer who drove it across the brutal heat of Sahara Desert! The truck traveled 6,600 miles in 35 days averaging 15 MPG. The engine never missed a beat and its low oil consumption was a perpetual wonderment to both adventurers.  (This gripping adventure story is documented in IH's magazine "International Trail: Volume 5, number 4, September 1928" , and can be read in its entirety on the Internet.)
During the 1940's and into the 70's Waukesha's Models 140/145  were popular fire truck engines and were known as "Fire Fighters"!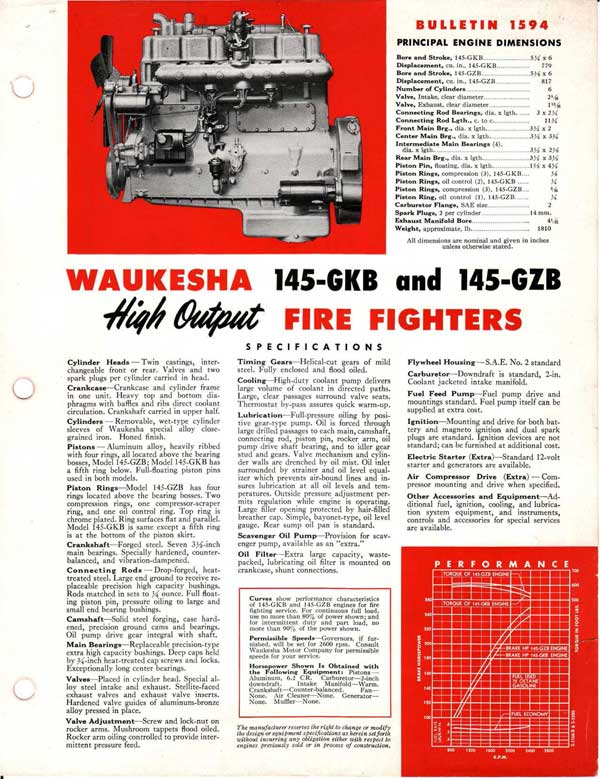 Sales Bulletin 1594 from 1951
(Click to open PDF 628 Kb)
Waukesha records do not indicate the customer's equipment models and so the following compilation of truck manufacturers that used Waukesha's was gleaned from various sources, including, trade magazines, the Internet and the Motors' Truck & Repair Manual, 5th Edition that covered the years 1936-52. This compilation is admittedly incomplete, unedited and a "works in progress" and is based on what information I could find.  It is being offered "as is" with the hope it will be useful to old truck/engine restorers --- and of course additions and corrections are welcome!
The compilation consists of two sections. Section One lists the truck manufacturers that have used Waukesha's. Section Two is a cross-reference list of truck model/Waukesha engine model, and is a "works in progress"
Rocky Schaefer, Historian, 4-2015; 2-2016

Copyright © 2016 Waukesha Engine Historical Society, Inc. All rights reserved