2006 Marked a Century Milestone with Slide Show (added February 2006, updated May 2011)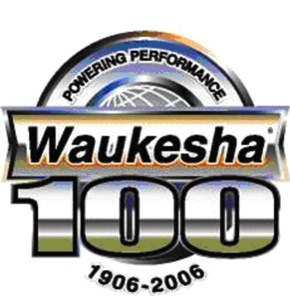 Waukesha Engine celebrated it's 100th birthday in 2006.   Waukesha Motor Company was established May 28, 1906, and papers were filed in the Register of Deeds office at the Waukesha County Clerks office May 29, 1906. 
Friday, August 11, 2006 all employees and their families, retirees and invited guests were invited to State Fair Park for a day of fun and relaxation during the 2006 Wisconsin State Fair.  Then, Sunday, August 13th, Waukesha Engine opened its' doors to the community for an open house.  Employees were on hand in the shop and offices to show where they worked and shared their experiences about the manufacturing of quality engines for over 100 years.
During the open house we took a number of photos of the celebration. You can see pictures of engines in the shop, collector's engines brought in for display, WEHS engines in our museum and some of the formal ceremonies and presentations made that day if you click on the 100 Year Anniversary emblem above. A new browser page will open with the slide show.
© 2012 Waukesha Engine Historical Society, Inc.