News Notes 1926 (added September 2012)
News from the oil fields September 21, 1926
The car load of Waukesha engines shipped on the 15th was never unloaded from the truck. All the units were sold before its arrival. Another load scheduled to leave Waukesha on the 25th is already sold and a third load scheduled to go on the 30th is partly sold.
The notation to Waukesha was ''build em build em"
Memo from Jim DeLong
Note from the Sterling Motor Truck Company:
The Milwaukee Public Works are operating 54 Sterling trucks that are equipped with the Waukesha "DU" or the "EU" engine.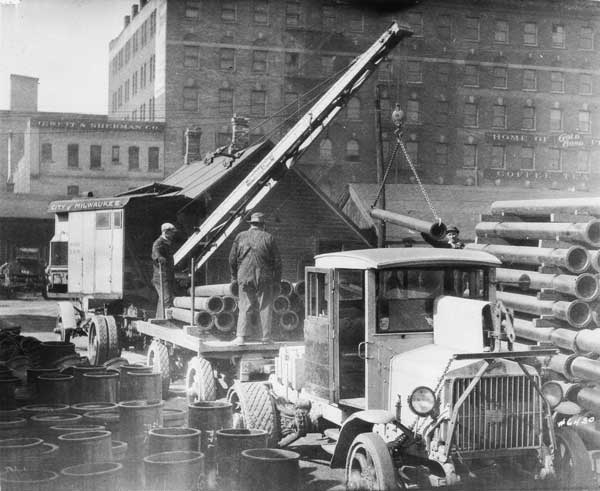 Sterling Truck used by City of Milwaukee, WI
Boat Applications:
On the Ohio River the "EU" engines are being used for propelling sand barges and also for running sand pumps. The owner says they only use half the gasoline the single cylinder Fairbanks Morse engine did.
Cliff Borgstrom, Historian
Copyright © 2012 Waukesha Engine Historical Society, Inc. All rights reserved