Silent Sioux (added November 2012)
A year or so ago I wrote an article for the WEHS internet web site about some early 20th Century automobiles that used Waukesha engines. I wrote that the Silent Sioux automobile was manufactured in Sioux Falls, South Dakota--- and also in Waukesha, WI and that the Waukesha venture was another story for another time. This is that story.
It is a story about how the Silent Sioux automobile got its name and about its creative inventor and industrialist. The story includes an old woolen mill store and warehouse, three clutch manufacturing companies, golf grips, violins and a cameo appearance by Teddy Roosevelt!
The story begins in Sioux Falls, South Dakota in 1907, where Thomas L. Fawick, a young lad not yet 20 years old, had designed and built a steam powered automobile. When a wealthy resident of Sioux Falls rode in it and bought it on the spot, Fawick decided to get into the automobile manufacturing business. He found some interested investors and proceeded to design a new automobile. But this time the inventive Fawick decided to power his new automobile with one of those new fangled internal combustion engines he had read about. He selected a new engine that had quickly gained the reputation of being a smooth, quiet running, and reliable engine that was easy to start. The new engine was being manufactured in a sleepy little village 18 miles west of Milwaukee, known as Waukesha. The village had gained world fame as a mineral spring health resort town and was the county seat and hub of what would become known as Cow, County USA. The new engine was being manufactured by the Waukesha Motor Company that was founded in 1906 by Harold Homing, Fred Ahrens and Allen Stebbins in the old rubble-stone Waukesha Woolen Mill store and warehouse on North St. in Waukesha,
Three major railroads serviced the famous health resort town, The Chicago Milwaukee and St. Paul, The "Soo" Line and Chicago Northwestern. Fawick decided to come to Waukesha to witness the test of the engine in the plant that was just a few blocks from the railroad station. Fawick later recalled; "The old stone building on North St. wasn't well lit, but I could hear that the engine ran exceptionally quiet." Fawick named his new automobile "Silent Sioux" and his automobile company the Silent Sioux Automobile Manufacturing Co. The Silent Sioux is credited for being the first automobile with four functional doors.
The frame for the Silent Sioux was manufactured by the A. O. Smith Corp. in Milwaukee and the auto's hand molded aluminum body was manufactured by the Charles Abresch Co., also in Milwaukee. So it made sense that in 1909 Fawick and associates decided to move their auto plant to the Milwaukee area. It should be noted at this point that the young Fawick had became good friends with the older Samper Perkins, who was president of the WMCo. in 1908. It was Perkins who obtained the financial backing and the promise of a piece of land on which the WMCo. could build a larger engine plant, having outgrown its cramped quarters on North St. The historical records don't say, but there is little doubt that Perkins, who was an industrialist in his own right, convinced his new young friend, Fawick, to move his auto company into the old woolen mill store and warehouse on North St. which would soon be vacated by the WMCo. In late 1909, WMCo, moved into its new plant on the west side of the city on a new street christened Factory St., off of St. Paul Ave., down by the railroad tracks of two of the three major railroads. And so it was, in December 1909, the Silent Sioux Automobile Co. moved into the old woolen mill store and warehouse on North St. and the city of Waukesha had become the home of an automobile plant!
But alas, the Silent Sioux venture on North St. in Waukesha did not last long. Try as they may, the Waukesha businessmen's club could not convince Fawick and associates to keep their automobile plant in Waukesha. In the Spring of 2010, Fawick and associates moved the Silent Sioux Automobile Co. to National Ave. in West Allis, WI for a short period of time before returning to Sioux Falls. Back in Sioux Falls, the auto company was reorganized as the Fawick Motor Car Co. and the Silent Sioux auto was renamed the Fawick Flyer. Only a few Silent Sioux/Fawick Flyers were ever built, all with the Waukesha Model A engines with at least one of the autos being built in Waukesha.
Fawick couldn't get financial backing to expand his auto plant operation and so he moved on to become a noted inventor and industrialist. He designed a farm tractor that also used a Waukesha Motor Co. engine and came up with the idea of using multiple discs for a clutch. This invention led to the founding of the Twin-Disc Corp. in Racine, WI with Fawick as president. But Fawick grew restless and sold his Twin Disc stock and got into the industrial use of rubber. In the 1930's Fawick, and his friend Samper Perkins, founded a small industrial clutch company in Waukesha, which later became the Industrial Clutch Corp. which remained in business for many years. Later on, Fawick helped develop a pneumatic clutch and founded the Fawick Clutch Co. While dabbling with rubber in the 1940's, Fawick invented tubular rubber grips for fishing rods, ski poles, golf clubs, etc. His "Golf Pride" grips are still the most popular golf grips in the world. Fawick loved playing the violin and composed violin music. Not surprising, the creative and inventive Fawick built violins for himself and friends.
But what about that cameo appearance by Teddy Roosevelt? Well, in the Fall of 1910, Roosevelt visited Sioux Falls and was driven around in a Fawick Flyer powered by a Waukesha Motor Co., Model A, engine --- and chances are that the auto itself was assembled in the old woolen mill store and warehouse on North St. in Waukesha!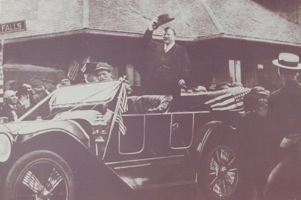 Fawick Flyer with President Teddy Roosevelt
A Fawick Flyer automobile is on display in the old courthouse museum in Sioux Falls.
Rocky 4-2012
Copyright © 2012 Waukesha Engine Historical Society, Inc. All rights reserved