CFR - The Beginnings (added March 2014)
The beginning of Waukesha Motor Fuel Research, Photos 8887, 8888, 8889 and 8890. These photos were taken in the mid 1920's and show the early equipment used in fuel and combustion research.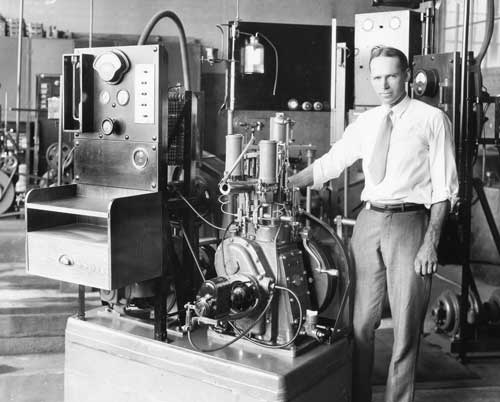 Arthur W Pope Jr June 29, 1931 Early CFR Knock Test Unit
Arthur W. Pope, Jr was hired in 1924 to take the job of Chief Research Engineer. Until that time, there had been no one person with that responsibility. He began with the engine in Photo 8887 which was a 4 HP Fuller and Johnson single cylinder industrial engine made in Madison, Wisconsin. This engine was modified, with very large series of cylinder heads of different shapes to investigate combustion characteristics.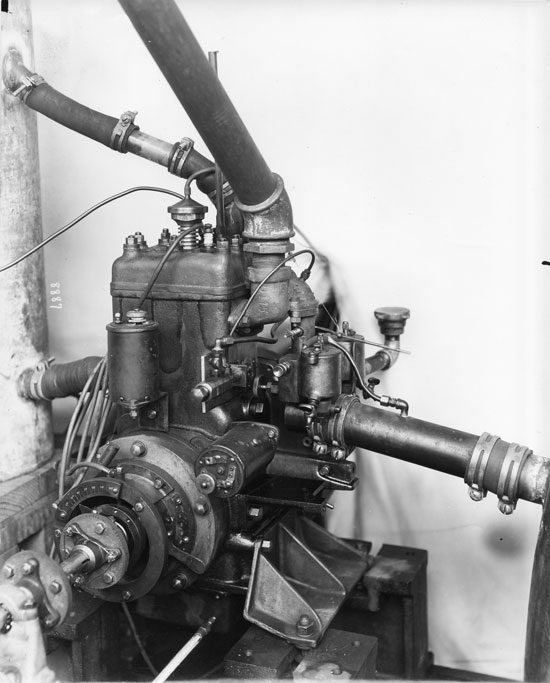 Photo 8887
Sir Harry R. Ricardo of England was a consultant to Waukesha and no doubt made many suggestions as to things to try. This photo shows a dual bowl carburetor so that fuels could be instantly switched while running. The "listening post" detonation detector is in the top of the cylinder head. The engine is connected as shown in photo 8890 to a barrel for measuring air flow, which is fed air through the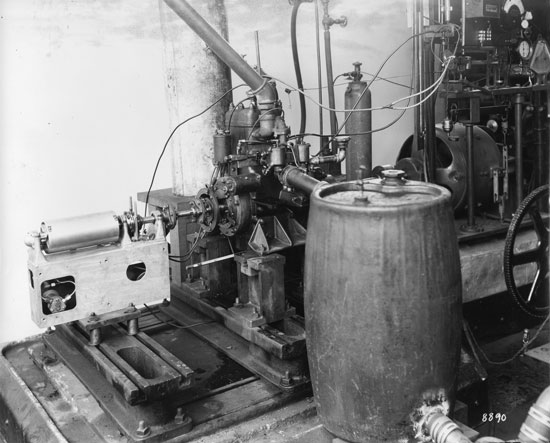 Photo 8890
volumetric machine in Photo 8888. This had a direct current variable speed motor connected to a positive displacement calibrated Roots blower with a revolution counter also chain driven to count the number of turns of the blower in a fixed time, usually one minute so that the cubic feed of air per minute flowing to the engine could be accurately measured. This, compared to the displacement of the engine per minute enabled the volumetric efficiency to be calculated. This enabled more efficient valving, head contouring, and timing to be developed by trial and error. The volumetric machine was made in our own lab and was powered by the bank of batteries below the operating panel. This machine was finally scrapped around 1980.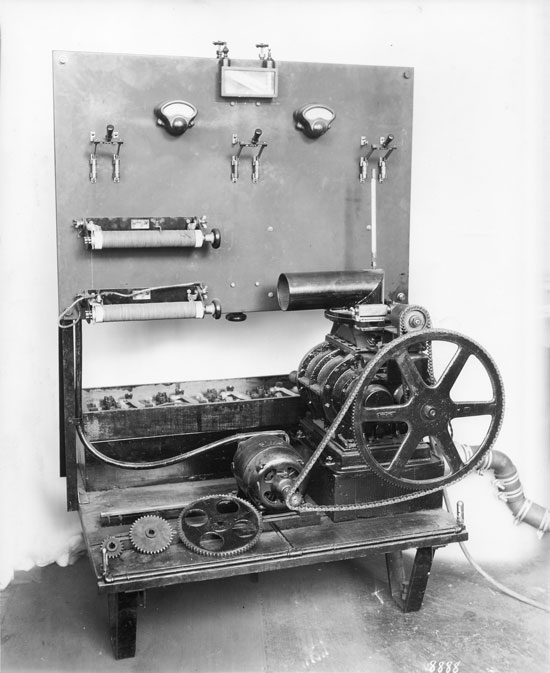 Photo 8888
On the front of the Fuller and Johnson is the Farnboro indicator, now in the Waukesha Engine Historical Society collection, showing the rotating drum on which the sensitized paper for recording cylinder pressure was placed. The high pressure Nitrogen bottle stands beyond the air surge chamber barrel. The pressure signal comes through the copper line which snakes its way from the cylinder head to the Farnboro.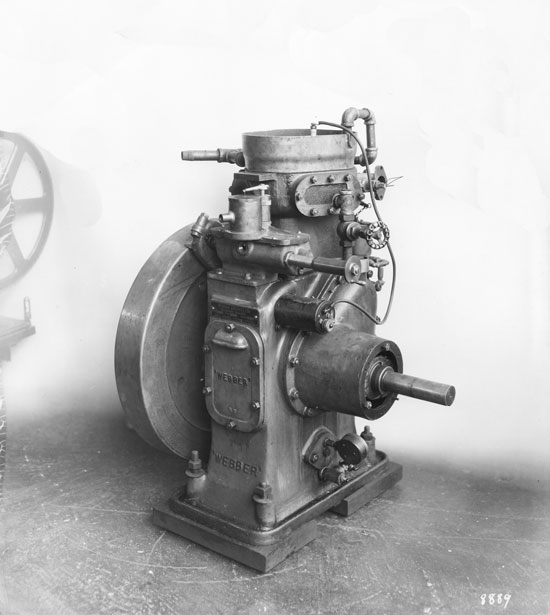 Photo 8889 - Webber Engine
Photo 8889 shows the next engine which Mr. Pope got for research work. It is a 5 HP Webber, made in Guildford, England, and was probably recommended by Mr. Ricardo. It has roller bearings on its crankshaft and camshaft, and had at least three different cylinder configurations made up for it, with a collar arrangement to hold the cooling water for the head, and quick change patterns so that a change of cylinder head could be made up, poured in aluminum at Grede Foundry (next door), machined as soon as cool, and ready for test the next day. This engine with its extra cylinders, heads, and pattern equipment exists today and may someday be part of the Waukesha Engine Historical Society collection. (Editor's note: The Webber engine is now on display in the Historical Society's museum)
Note the knock matching device mounted alongside the cylinder.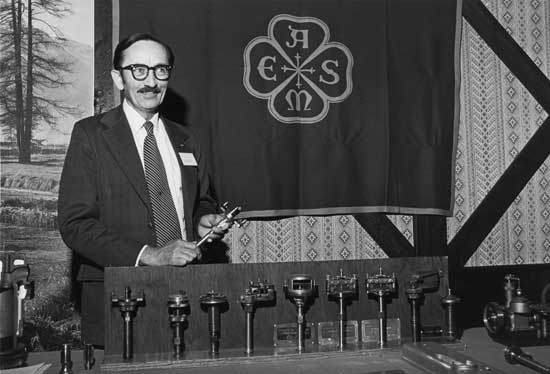 Ivan Baxter with his collection of early bouncing pin combustion indicators. A gift from UOP Corp
Ivan Baxter
Editor's note: These are notes from a speech that Ivan Baxter gave to ASME about 1990. These notes came to light after Ivan's daughter, Irene, donated some of Ivan's memorabilia to the Historical Society.
Copyright © 2014 Waukesha Engine Historical Society, Inc All rights reserved