The Motor Works - Part 10 (added October 2014)
Motor development involves many moving parts
| | |
| --- | --- |
| | JOHN SCHOENKNECHT |
Workers recall time spent at Waukesha Motor Co.
As I researched for this column, I realized that I had no idea how a motor was designed and engineered to work correctly. I knew it must have been an amazing feat to create such a design, so I turned to Rocky Schaefer, who explained the process. Rocky had previously explained to me that when he began working, the process took about two years.
"The introduction of a new engine model begins with the research by the sales department to determine if there is a customer or a new viable and profitable market for a new engine and if company officers and board of directors agree to go ahead with the new engine project.
"The basic technical requirements for the new engine are established, such as rpm, hp, fuel to be used, type of engine cycle, engine configuration, etc. from which all other engine components are designed in accordance with proven engine design practices and within the targeted engine selling price.
"Engineers design the engine with input from various sources such as potential customers and component suppliers," Schaefer said.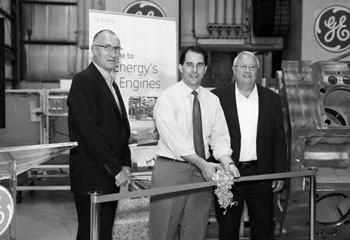 GE photo
Gov. Scott Walker, center, with Waukesha Gas Engines President Brian White, left, and Waukesha gas engines Vice President for Engineering Lynn Palmer, right, officially open the new $3.1 million, 22,000-square-foot Engineering Center in September 2012.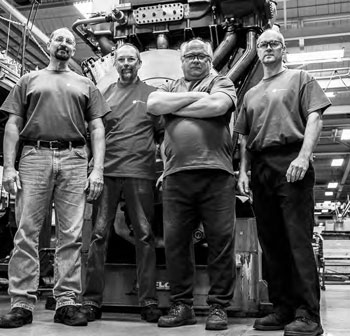 GE photo
Waukesha Gas Engines manufacturing staff on the 275GL+ engine assembly line.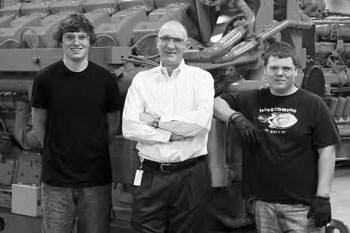 GE photo
Waukesha Gas Engines President Brian White (center) and two high school participants in the Waukesha manufacturing certificate program.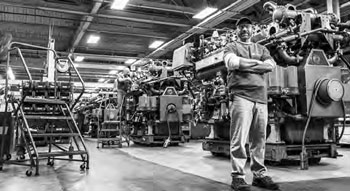 GE photo
Waukesha Gas Engines manufacturing staff on the VHP engine assembly line.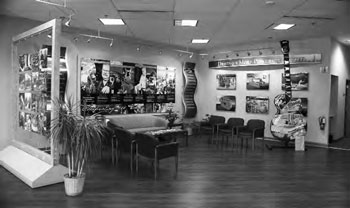 Photo from John Schoenknecht
The bright and welcoming lobby.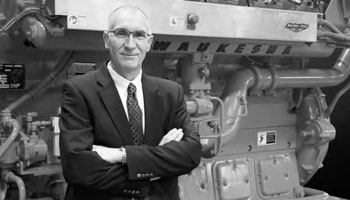 GE photo
GE's Waukesha Gas Engines President Brian White in front of a Waukesha natural gas engine.
"After the design is approved, 'detail drafters' make individual drawings of each engine component and assign them part numbers."
"Prints of the component drawings are sent out for bids from the various suppliers of castings, forgings, machined parts, fabricated parts and 'bought complete' parts. Experimental parts are ordered for an experimental engine. That engine is assembled and tested in the experimental lab to insure the engine meets the design criteria, to make modifications as necessary, and to measure and record the performance data of the engine, such as power, torque and fuel economy curves used by the sales/marketing department.
"After the experimental engine has been successfully tested, it is released for production. (During the testing phase, manufacturing and other departments have been busy getting ready for the new engine's production.) Often a field test engine is built to get feedback from a customer and if necessary, final modifications are made.
"Unless the engine was designed for a specific customer, the sales department then begins the marketing campaign with news releases, sales bulletins and advertising sent to potential customers and to the various trade magazines.
"If the sales department research was correct, and marketing was successful, orders start to come in. It was often the case at Waukesha that a new engine was eventually used in many other applications for years after the sales for the original application had ended.
"The service department provides help to install the engine at the customer's site as needed and provides future service through a network of distributors whose mechanics are trained at the plant in Waukesha."
Memories of a few workers
Cliff Borgstrom
Cliff Borgstrom worked for 43 years at Waukesha Motors. Even as a youngster, he was connected to the company.
"During the depression in the 1930s, we lived on St. Paul Ave. a short way from the Motor Company. Every morning about 6:30 a neighbor walked by the house on his way to work at the Motor Company.
"If he came home by 7 o'clock a.m., it was a bad day with no work available. If he came home a few hours later he at least got in a few hours. If he came home after a full day that was something to hope for.
"During the plant's peak years, many Waukesha families had at least one member working at the Motor Works."
Cliff remembered a few highlights of his time with the company.
"In 1947, during the big snow storm, all the roads and sidewalks were tied up. My brother Carl and I decided to go to work. We broke through drifts three feet deep or more. We took turns breaking a path," he recalled.
"The plant was pretty well deserted except for a few diehards like us. Also, many from the third shift could not leave. We were all given shovels to clear the driveways so trucks could come and go. I had my shovel in hand when my boss showed up and said 'No way.' My job was very important as I was the only one in the test room who made it in and we had engines to test.
"I heard a lot of comments from people walking by with their shovels.
"Another time, while setting up an engine in the large test room, a round piece of concrete about five inches in diameter fell from the ceiling and hit me onto my hip.
"The company nurse could not imagine what happened and I had to explain it more than once as she did not know how to record it in her records. We found out later that the millwrights were drilling holes in the floor above me for bolting down a machine."
Cliff was instrumental in developing a simple instrument that saved the company lots of money.
"Periodically in order to inspect the cylinder wall of an engine after test we had to remove the cylinder head. For an engine with six cylinders, this was time consuming. I took a metal tube about 24 inches long and fitted it with a battery with wires going down to the end where I fitted a flashlight bulb and a mirror to view the cylinder walls sideways. All we had to do was remove the spark plug and insert the tube to view the interior. We saved many hours per engine and the procedure is still place today – only with modern equipment."
Cliff proudly pointed to his career path at Waukesha Motor.
"To show that someone can be promoted from within, I started at Waukesha when I was 16, working during the summer and after school during my senior year. After I graduated, I worked until Uncle Sam called me to serve in World War II. After I returned from my service, my job was waiting for me. I spent several years testing engines, and was promoted to engine inspection and finally I was a quality assurance supervisor. I worked for Waukesha Engine for fortythree years and missed only three days due to sickness."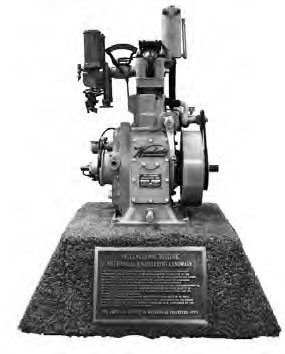 Photo from John Schoenknecht
The original CFR engine is on display at the Waukesha Engine Historical Society museum. An attached bronze plaque explains the significance of the International Historic Engineering Landmark.
'Rocky' Schaefer
Norman "Rocky" Schaefer started by working as a detail draftsman in the engineering department at Waukesha Motor Co. It was 1952 and he was fresh out of high school. Rocky was recommended for the job by his drafting teacher, Mr. Sontag. Rocky mentioned that he was thankful to Una Compton, who would not let him drop a senior math class as he used the skills he learned in math for his work.
Rocky's dad, Ernest Schaefer, also worked at the company. He spent 33 years in production, boring main bearings for the motors. It was a job that required a lot of strength and precision. Rocky said that his dad was once reprimanded for moving a part by lifting instead of using a winch to carry it.
Rocky recalled that at first he drew parts for the V-12 engine. He worked on a drafting table with a straight-edge, T-square, triangles, and a slide rule. His supervisor was Jack Kelly, a man who Rocky greatly admired for his skill, know-how and helpfulness. Kelly was educated at Purdue and worked his way up from design engineer to chief draftsman to manager of design.
Rocky's next job was that of a layout man. In that job he drew small parts and layouts. He was then promoted to be a designer, where he actually designed some of the motor parts. Rocky's final duties were that of a supervisor of product design. His duties included checking on the work of people who designed parts.
Rocky feels that the 1960s were the busiest and most dynamic years for the company. "There was so much going on in the company and in the world. We were constantly busy developing new products," he remembered.
Rocky told me about the time he got a chewing out from Tony Herzberg for designing a part that could be put together, but could not be disassembled. It was one of only a few mistakes he made in his long career. After waiting a few minutes, Rocky went back and gave Mr. Herzberg a piece of his mind. Later in the day he was called back to Herzberg's office. Fully expecting to be fired, Rocky was surprised that Herzberg said he could see Rocky's point of view.
"My dad had a similar experience, so I knew I needed to stand up for myself. Tony respected that," chuckled Schaefer. After working for the company for 44 years, Rocky retired in 1996.
Dennis Tollefson
Dennis Tollefson wrote to me with some of the details of his career at Waukesha.
"I started at the Motor Works on June 15, 1964 fresh out of UW-Madison with a BS in mechanical engineering. Back then Waukesha put new engineering recruits on a year long training program. During that year I spent time in every department in the offices and in the shop, working alongside office and union personnel.
"After that year I landed a position in Special Products as a Project Engineer, working on designing Enginators and Engomatic controls. I was part of the crew when the name changed to Power Systems and we moved to the new plant on Prairie Ave.," he recalled.
"Over the years I spent more time on controls work than Enginator work. As time passed I gained more and more responsibility and in 1986 became the Engineering Manager over all of Power Systems engineering, eventually becoming the Director of Power Systems Engineering. I held that post upon my retirement in 2006 after 42 years; 41 years in one department."
"As Director of Engineering I was the main driver in Power Systems getting its ISO-9001 certification before the main plant."
"Since retiring I have taken a few classes on website design and expanded the WEHS website to try to share our long history and heritage. It is amazing how many folks out there love their old Waukesha's. I just talked to a guy who spent 10 years looking for a 1936 Case tractor with a Waukesha FC engine that his grandfather owned. He finally found it."
"I currently serve on the WEHS Board of Directors."
The Waukesha Engine Historical Society
Since being founded in 1992, the Waukesha Engine Historical Society has been busy preserving and protecting the archives of the company. Fortunately, they have an abundance of material to work with. Included is a huge collection of Warren O'Brien's photographs, catalogs and parts lists, and an impressive number of motors.
The club website (at www.wehs.net) contains a virtual tour of the museum as well as a treasure trove of articles written by members of the society.
According to Dennis Tollefson, who manages the website:
"In 2012 WEHS had 100 inquiries for manuals, photos and other questions about our engines. Through September of 2013 we had 110 inquiries from all over the world. These are for engines built from the 1915 to the 1960s and they still run. Our engines are prizes for collectors. For comparison there were 69 inquiries in 2011, 55 in 2010 and 34 for 2009."
To celebrate the 100th anniversary in 2006, Waukesha Engine published a book on its history, which was written by Michael Goc. It is an excellent account with many beautiful photographs. If you are interested in a copy of the book, or if you are interested in joining the WEHS for a fee of $5.00 per year, then send an email to wehs@wehs.net.
Thanks
I would like to thank Eric Vanden Heuvel for his help with this column. Eric was the archivist at the Waukesha County Museum Research Center, and he helped me find photos and articles for this column. I would also like to thank Dennis Tollefson, Rocky Schaefer and Cliff Borgstrom of the Waukesha Engine Historical Society and John Blomberg of GE Power and Water of Waukesha.
(John Schoenknecht can be reached at thbolt@wi.rr.com.)
This article was originally published in the Saturday, February 22, 2014 issue of The Freeman Waukesha County's newspaper.
Copyright © 2014 Waukesha Engine Historical Society, Inc. All rights reserved