The Waukesha Refrigerator (added October 2012; updated December 2014)
In 1935 the Waukesha Motor Company introduced the Waukesha Refrigerator. Its advertisement read: "Any home anywhere, not served by electric power lines, can now have modern mechanical refrigeration".
It was powered by a 3/4 hp, 4 cycle gasoline engine. This engine was known as the Waukesha Ice Engine that was specially designed for this purpose. It was perfectly balanced, smooth running and simple to operate. It was started by a foot operated kick start handy ratchet lever, sure, simple and safe. One or two hours of operation provided refrigeration for 24 hours using about 2 pints of gasoline.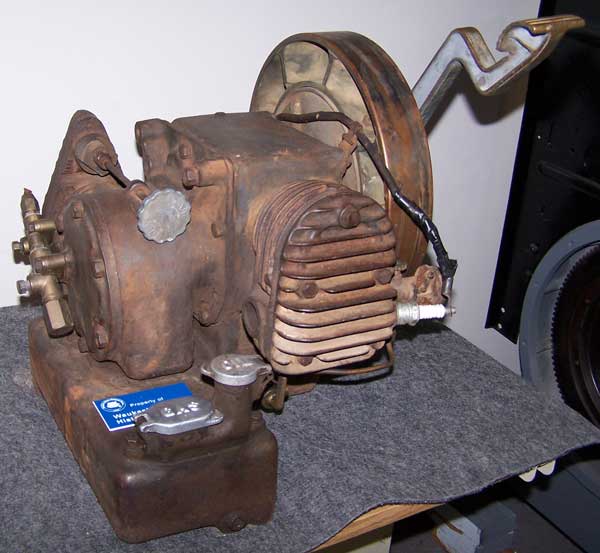 ICE Engine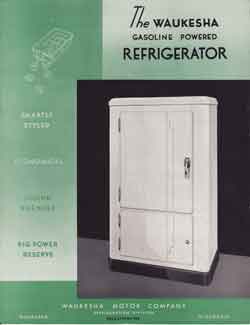 Bulletin 966, March 1935
Click on image to open PDF of bulletin (896 KB)
The exterior was 58 inches high, 34 inches wide, and 24 inches deep. The outside finish was a white 'Dulux' baked enamel with chrome plated hardware. Its interior was finished with white porcelain with flat ribbon shelves with chrome plating front. The main cabinet food section was a storage area of 8.4 cu. ft with the freezing compartment 12 inches high, 6 inches wide and 6 inches deep. The ice cube trays made 84 cubes at one time.
This refrigerator was designed for rural areas where large quantities of food were stored for a longer period of time than in the average city home. A large slab of beef or pork and even a whole watermelon could be stored in the roomy interior.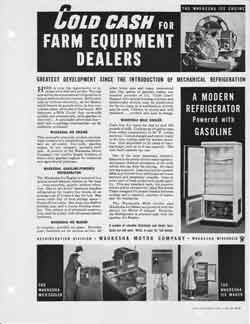 Trade Magazine Ads circa 1934
Click on image to open PDF of bulletin (692 KB)
This refrigerator could be placed in the kitchen with the exhaust piped to the outside. The safety fuel system delivered gasoline to the engine only when the engine was running, no fuel stands in the carburetor. The insurance risk was not increased as there was no open flame. This refrigerator was ideal for homes without electricity and therefore not denied the joy of this modern development.
Cliff Borgstrom
Waukesha Engine Historical Society
Copyright © 2015 Waukesha Engine Historical Society, Inc. All rights reserved